While you're waiting for baited breath until Terra Nova premieres (don't miss its two-hour premiere on September 26th!), here's something to ease your cravings. There is an interactive Terra Nova Mobile truck coming to a city near you! Aptly titled "Journey to Terra Nova Mobile," the truck began its journey at Comic-Con in San Diego this year and will make its way across America until it hits New York City on September 24!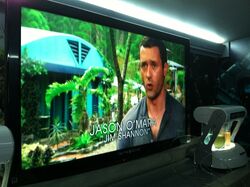 Hitting a total of 23 cities, "Journey to Terra Nova" provides fans with tons of Terra Nova goodies! To find out if this awesome truck if coming to your city, check the tour calendar.
I got to experience the truck personally in San Francisco today; the truck is fully equipped with its own green room where YOU can film a scene in Terra Nova AND a mini oxygen bar that allows you to smell scents while watching certain Terra Nova scenes! How cool is that? The interior of the truck is designed as though you are going through the portal to the primordial universe that the characters encounter. Intrigued? Check out more pictures of the truck at the gallery below.
The green room is undoubtedly the highlight of the mobile truck. The director will ask you to act out certain scenes as the technicians insert you into a Terra Nova sequence. After the filming, they will email you your scene so you can watch it in its full glory (it's pretty badass to fight a dinosaur after all!) and share with friends via Twitter/Facebook/social media of choice. Clever viral marketing for them/Fun interactive experience for you. Win-win! You can watch all the videos here.
As an added bonus, Journey to Terra Nova is doing an awesome sweepstakes contest in which the two winners get to go to Australia (where Terra Nova was filmed) on a National Geographic Adventure! Be sure to enter the sweepstakes here!
Will you be Journeying to Terra Nova? Tell us if/when you experience the truck...and share your pictures and video!
Gallery
Ad blocker interference detected!
Wikia is a free-to-use site that makes money from advertising. We have a modified experience for viewers using ad blockers

Wikia is not accessible if you've made further modifications. Remove the custom ad blocker rule(s) and the page will load as expected.