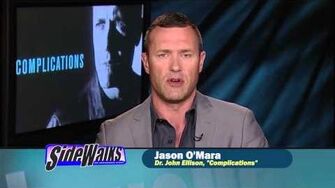 Actor Jason O'Mara, who played Jim Shannon in Terra Nova, was interviewed by Sidewalks Entertainment last year. The video containing the interview was uploaded on August 22, 2015. However, it never showed it when I was looking for news about this show.
I will summarize the most interesting parts of the interview.
Terra Nova's cancellation and aftermath:
"I have always thought that [...] it was cancelled too soon. I felt like we were just kind of getting with the story and it was stopped. It seems like one of those shows that seems to go on to have this other life after it aired, you know, people are finding it on other platforms on the internet and other places."
Will there be a season 2 or continuation movie?
"All I can say is... I hope it happens, but it certainly doesn't look very good. I think it is only fair to fans, when I say, I think we're just going to have to settle with what we made."
"But at the same time, Stephen Lang and I are always talk[ing] about the possibility of trying to wrap it up somehow. You never know, if fans get together and campaign and make a compelling for some network or studio or Netflix or somewhere like that... never say never"
The host Cindy Rhodes said:
"Well, I'm sure that all of your fans watching right now are gonna find a way to do it so, see if we can get that show back on."
Ad blocker interference detected!
Wikia is a free-to-use site that makes money from advertising. We have a modified experience for viewers using ad blockers

Wikia is not accessible if you've made further modifications. Remove the custom ad blocker rule(s) and the page will load as expected.