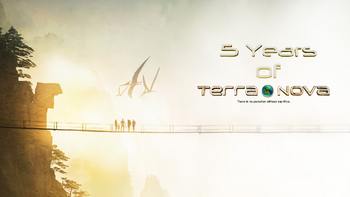 September 26 this year marks the 5 year anniversary of Terra Nova. I think it would be nice if fans did something to celebrate the occasion. Fans of other franchises have special days dedicated to their favorite franchise. Examples are: Star Wars Day, Hobbit Day, Jurassic June and Towel Day.
The existence and observance of these "holidays" is a telltale sign of how alive/dedicated the respective fanbases are. We are quite dedicated fans of the show. Therefore, I think it would be a good idea to encourage each other to not let September 26 go by unnoticed.
I would like to use this thread to gather ideas for how to celebrate September 26. I will list here what I did last year.
Watch Terra Nova media when it aired:

I look every day at the Countdown to Terra Nova article to see what picture/video went online on the Countdown app back in 2011. It brings back memories from 2011. I was doing a bioinformatics internship back then. When I wanted a short break, I went to the Countdown app and looked up when news from 2149 when online that day. This year I tried to imitate the Countdown app by uploading the video/picture of the day to this Wiki's facebook wall.
I watched the pilot of Terra Nova at September 26. I also tried to watch all the other episodes on the date they aired.

If you have a Netflix account this is extra helpful to do. If a large number of fans would watch the show on the same day, Terra Nova might get on the list "Popular on Netflix". People who have forgotten about the show might see it in the list and click it. All this could help to get Terra Nova back on the people's minds. This is the very first step in trying to get the show back. And if it doesn't go that far, the Netflix' statistics will at least show this date is special to a group.

I will try again to make a motion comic video. Not sure it will be finished by September 26, though.
Ad blocker interference detected!
Wikia is a free-to-use site that makes money from advertising. We have a modified experience for viewers using ad blockers

Wikia is not accessible if you've made further modifications. Remove the custom ad blocker rule(s) and the page will load as expected.