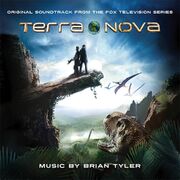 The soundtrack of Terra Nova was created by composer Brian Tyler and mastered by James Nelson.
The score was released on CD on October 9, 2012. This special 2-CD SET is limited to 3000 units and features in depth liner notes by film music writer Brian Satterwhite, which include comments from the composer and producer Brannon Braga.
Terra Nova 2:55
Cycles of Time 4:38
One Last Hope for Humanity 3:20
Banishment 2:19
This Valley 2:38
The Moon 1:28
You Let Her Leave With Him 2:37
Sky's Mother 1:28
The Portal 3:43
Someone Wants to Talk With You 2:31
More Than a Memory 4:53
Patrols 1:57
The Plan 5:19
Flying Over Terra Nova 2:02
I'm Heading Outside the Gates 4:02
What Were You Really Doing? 5:33
All I Needed to Know 6:25
The Investigation of Outpost 9 5:04
There Are Millions of Them 3:23
Last Known Location 3:54
You're My Son 1:37
We Brought Back Two 1:55
Promises 2:24
Magical Journey 3:02
Entering the Vortex 2:50
Memorial Field 2:02
Base Camp 2:58
Rebirth 3:05
Remember That Handle 6:09
New Earth 1:11
Sixers Intel 2:39
Take the Shot 2:00
Memory's Echo 2:48
Into the Beyond 2:13
Save Your Spot 3:10
Figuring Out What Happened 1:12
Take a Look Around 2:11
I Want to Declare My Intentions 3:44
There She Goes 1:36
I Sure Hope You Are Right 2:29
Preparing for Battle 2:59
This Is Lea Marcos 1:46
They're In Charge 1:23
Opportunity 1:34
Prehistory 3:39
Shooting Stars 0:49
Behind the scenes
Edit
Missing tracks
Edit
The CD didn't feature all scores of Terra Nova. The track "Now You See Me" was absent, but was featured in a YouTube video.
The track "Another Sun" was also absent. Four versions of the track were available on Spotify.
External links
Edit
Ad blocker interference detected!
Wikia is a free-to-use site that makes money from advertising. We have a modified experience for viewers using ad blockers

Wikia is not accessible if you've made further modifications. Remove the custom ad blocker rule(s) and the page will load as expected.