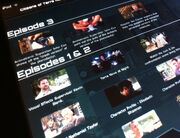 The Terra Nova Companion App was a FOX's second screen app to provide viewers interactive features during the broadcast of the Terra Nova series. The App was compatible with iPhone, iPod Touch, and iPad. It required iOS 3.1 or later.[1]
The app was not made for streaming or downloading full episodes.
Publisher's Description
Edit
Go deeper into the world of Terra Nova on FOX. Watch the show live with your iPad and see the show from a new angle as a two-screen TV-iPad experience. This app is designed to sync with the live show on TV and provide a unique innovative way to experience the world of Terra Nova for every episode during the season as a show companion. You will see a prehistoric world come to life in your hands. You will learn about the history, the characters, their relationships, and their world. This app is an essential viewing companion for the Terra Nova fan.
The Companion App was released weeks before the first episode aired on September 26. The app showed a countdown until that day.
The Companion App supplied background information about the main characters in the "Citizens of Terra Nova" section. "The Prequel" section contained video shorts to enhance the show's backstory. The "Behind the Scenes" section also contained many short clips as well as cast bios.
As each new episode was broadcast, "Get Closer" sections became available with more detailed info on various things mentioned in that show. For example, when a new type of dinosaur like the Ovosaurus appeared in the What Remains episode, some mini-factoids about them became immediately accessible on a viewer's iPad.[2] Polls also regularly appeared in the app.
The Terra Nova Infusion App was also designed to be a second screen app for the Terra Nova series. It is unknown why the work on the Infusion app was abandoned in favour of the Companion App or is features from the former were retained in the latter.
References
Edit
↑

Information retrieved from www.iapps4you.com/iphone_ipad_apps/481824_terra_nova.html

↑ DesigningGeek (2011, October 11). TERRA NOVA: Nobody gets in or out! (Except when they do.). Retrieved from https://designinggeek.com/2011/10/11/nobody-gets-in-or-out-except-when-they-do/
Ad blocker interference detected!
Wikia is a free-to-use site that makes money from advertising. We have a modified experience for viewers using ad blockers

Wikia is not accessible if you've made further modifications. Remove the custom ad blocker rule(s) and the page will load as expected.