RebreatheX is a company that produces rebreathers. A rebreather is a breathing apparatus that serves as an air purifier. In 2149 RebreatheX released the model Rebreather7000. As advertized, they last for 24 months.
Rebreather7000
Edit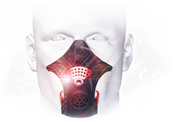 New lightweight body.
No parts to replace.
Easy to clean.
Filter lasts 3x longer.
Behind the Scenes
Edit
The Rebreather7000 post was published on August 3, 2011 as part of the Terra Nova Countdown App.
External links
Edit
Official website: www.rebreathex.com (taken offline)
Ad blocker interference detected!
Wikia is a free-to-use site that makes money from advertising. We have a modified experience for viewers using ad blockers

Wikia is not accessible if you've made further modifications. Remove the custom ad blocker rule(s) and the page will load as expected.