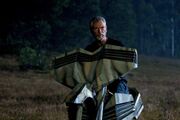 A motorbike is a type of vehicle that is used by the residents of Terra Nova for expeditions. Each is equiped with a screen for navigation. We see this bike in "What Remains" where Taylor uses it to ride from Outpost 3 to Terra Nova and in "The Runaway" where Jim uses it to travel from Terra Nova to the Sixers camp where he planned to rescue Leah's brother, Sam.
Ad blocker interference detected!
Wikia is a free-to-use site that makes money from advertising. We have a modified experience for viewers using ad blockers

Wikia is not accessible if you've made further modifications. Remove the custom ad blocker rule(s) and the page will load as expected.