Ken Foster
Actor
Sweeney Young
Seen In
"Bylaw"
Name
Ken Foster
Status
Deceased (murdered)
Job
Terra Nova Security

Ken Foster was a member of the security team who was checking on a communications station that had a problem. When he opened the door of the station, he was killed by a Nykoraptor that was trapped there intentionally by Curran.
Character Biography
Edit
He was born on October 24th, 2129.
Before Terra Nova
Edit
At Terra Nova
Edit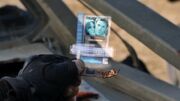 Before his death, he had been in a relationship with a married woman. He was a very good gambler and was owed a lot of money by Curran, who murdered him by trapping the Nykoraptor in the station prior to his arrival.
Foster is the first character to have their specific date of birth revealed.
Ad blocker interference detected!
Wikia is a free-to-use site that makes money from advertising. We have a modified experience for viewers using ad blockers

Wikia is not accessible if you've made further modifications. Remove the custom ad blocker rule(s) and the page will load as expected.