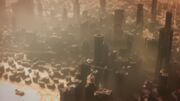 Chicago is a major city in the United States of America.
By 2147, Chicago had changed dramatically from the 21st century, although there are still several recognizable landmarks in the 22nd century. These include the Willis Tower, the Two Prudential Plaza, multiple elevated train lines, the Dwight D. Eisenhower expressway, Northwestern University, and the Northeastern Illinois Commuter Railroad.
Ad blocker interference detected!
Wikia is a free-to-use site that makes money from advertising. We have a modified experience for viewers using ad blockers

Wikia is not accessible if you've made further modifications. Remove the custom ad blocker rule(s) and the page will load as expected.